WISE Bites
Positive profiling: Are you listening?
Good salespeople know that selling requires more than a good presentation of your product. Great salespeople know selling requires active listening.

Stop talking at your customer and create a dialogue with your customer. This builds relationships by creating engagement and trust. Start a conversation by asking open-ended questions that help you understand your customer.
Tasting Rooms in the Flesh
Château Kirwan hosts foreign visitors at Vinitech
On a cold November day in France's Bordeaux region, we were taken by bus to Château Kirwan in the Margaux appellation. After touring the facilities including the chais, where some of the barrels are stored, we proceeded to the tasting room to sample two wines. The châteaux themselves are very different from most wineries in North America, but it was the tri-lingual guides that demonstrated we were in an international environment.
"WISE Bites" continued
When you engage with your clientele, you learn about their lives: the things they like to do, eat, drink... By asking questions, you begin to better understand their needs and start weaving the conversation toward wine—your wine, which fits their lifestyle perfectly!

Research shows that we interact with many different types of wine buyers. To simplify, WISE created profiles for the five main buyer personalities. Each one of these groups has different psychological needs; when these needs are met, they are ready and happy to buy.
Ratings junkies

live and die by ratings. They need to follow—but not just anyone. They need to follow someone they and others clearly respect. They are impressed by celebrity endorsements, winemaker favorites and wine lists at high profile restaurants.

Value buyers

look for special value. Your focus could be on the lowest priced wines in your portfolio or a special sale on the highest priced wines. Either way, this group is looking for a "deal."

Advice seekers

look for consultation. These guys are not beginners; they want to learn but don't have enough experience or confidence to do it alone. They want their hands held, so give them the advice they are so clearly seeking.

Know it alls

look for an audience—or a debate. Yes, they have lots of ego. They need an audience, so you need to play that role. Don't take it personally: Let them show off what they know. Whatever you do—and no matter how tempting—don't get into a contest with them. You may win the battle (i.e. have the right answer to something) but lose the war (i.e., sale or club membership.)

Newbies

don't know where to start. This is the most common group. They are ones who look nervous and feel intimidated, lost or confused. The best thing you can do is put them at ease. Play off of what they know and build their confidence. Keep it simple, be sincere and go slowly. Remind them to buy what they like—wine tastes are subjective!
?
When you understand wine-buyer profiles, you can identify your customers' needs and motivations and tailor your pitches accordingly. The power of positive profiling (rather than pre-judging) is not only that it leads to more sales, but customer satisfaction is actually much higher because buyers feel they had a unique experience tailored to their preferences.

What type of customer is in front of you? Are you asking enough questions to decide? Are you listening and adjusting your presentation accordingly?
Source: WISE Academy,
www.wineindustrysaleseducation.com
"Tasting Room in the Flesh" continued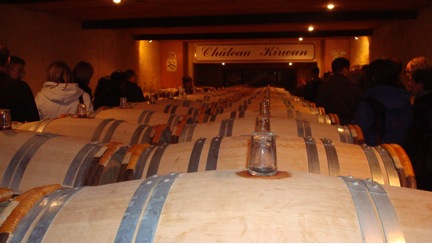 Having just two levels of barrels makes it easy to view the glass bubblers in each vessel.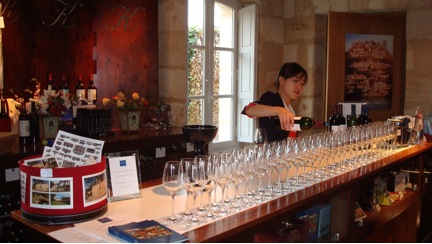 A staff member at Château Kirwan fills 30 glasses for guests at the tasting room bar.
Special lighting/art for barrel rooms

One of the attractions for many winery visitors is the barrel room. Most well known wineries in France have a special "visitors" barrel room (used like all the others, but usually smaller and with attractive features for photo opportunities.) I was impressed by the peach glow created by the vertical fluorescent lights at Château Siaurac.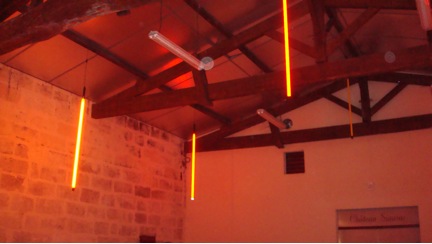 The glow from these lights fills the barrel room like a beautiful setting sun.
Acknowledgments

Once again, thanks to the Promosalons USA Group and Vinitech for organizing my visit to Bordeaux. For wine professionals wanting to broaden their wine world knowledge, the scale of the every-other-year trade show is impressive, educational, friendly and a must-see.

"Loire Valley" open house sample

After Vinitech I went to the Loire Vallee—specifically the Chinon area, where the reds are Cabernet Franc and the whites are Chenin Blanc. By pure chance a family friend, owner of Domaine de la Noblaie, had a two-day open house. The cold temperatures did not stop dozens of visitors from tasting the 2009 (and a few 2006 and 2007 for the special American guests) directly in the tank room. I felt at home...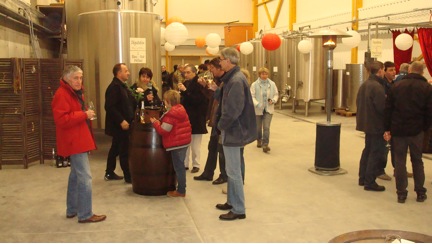 Heaters keep tasters warm at Domaine de la Noblaie.
Anderson Valley tasting rooms

Back in North America, the Anderson Valley is located in the southwest corner of Northern California's Mendocino County. Compared to the main wine roads off U.S. Highway 101, this valley is remote and traverses mountainous and curvy roads (all of them newly repaved.) Pinot Noir, Chardonnay and Alsatian varietals are kings and queens of the valley. Handley Cellars was the first stop I made on a recent trip, and the reception was typical of the welcoming region. Rainbow Hill received us with friendly smiles and great wines. The elegant yet warm tasting room is also a furniture display lounge—extremely welcoming and cozy on a cool foggy day.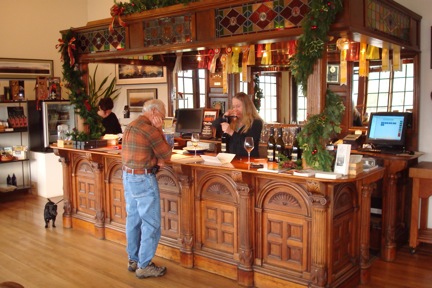 The dog-friendly tasting room bar at Handley Cellars is a work of art.
A few miles east on the main road, Husch Vineyards has a special tasting cabin where Margaret Pickens received us. The friendly and positively welcoming attitude made us feel like guests in a friend's home.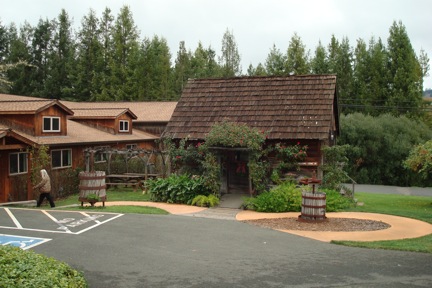 Separate from the winery, the Husch Cellars tasting room is an old-timer refuge.
In addition to the wines, surroundings and company, I enjoyed the educational flyer detailing wine facts often asked by visitors.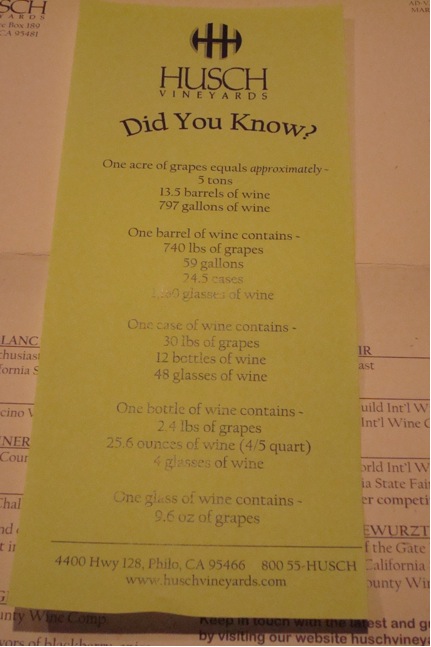 Husch Cellars prints a "Did You Know?" FAQ sheet for tasting room visitors.
Toulouse Vineyards recently built a new tasting room to take advantage of the gorgeous valley views. As usual, when the winemaker/owner is present, visitors get an extra souvenir to bring home. Vern Boltz was engaging, knowledgeable, friendly and willing to spend time with us as if that's the only thing he had to do that day. And when special bottles are opened, guests remember and share the experience with friends at home. Thanks Vern!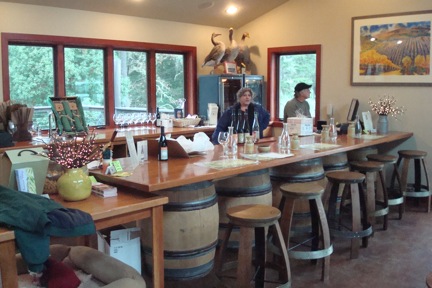 The tasting room bar at Toulouse Vineyards is simple yet inviting and spacious.
Cheers,
JB
Please send suggestions to trf@winesandvines.com
Jacques Brix is vice-president and director of sales, west coast for Wines & Vines. This column is based on his personal experiences at winery tasting rooms.