WISE Bites
Mystery Shopping Lessons
What makes your winery different than your neighbors'? Is it your story? Your wines? Your location or venue? Making your winery stand out as different from hundreds of others is more of a challenge than you might think.
The elements that make your brand different from your neighbors and other wineries are what sell the experience. And what you and your team think of as your brand story may not be the message that your guests perceive.
Tasting Rooms in the Flesh
Entertaining guests with nothing but the best
Located on the less-traveled road of the California's Dry Creek Valley, Lambert Bridge Winery is a shining example of what you can do when only the best will suffice (and when you invest a lot up front). Guests arrive to see manicured picnic grounds with several terraces and two professional pizza ovens before continuing inside to the huge wood-paneled tasting room, peeking through the glass walls into the barrel room/VIP-club member tasting room—not to mention the winery crush pad and chais.

Roflsoft - Just Bottle Shots
Highest quality bottle images at affordable prices. Since 2007, our studio only photographs wine bottles. 100% satisfaction guaranteed.

Checkfront - Start your Tastings with a great first impression
Interaction with your brand starts on your website. Offer guests the convenience and flexibility to book a tour or tasting online.
"WISE Bites" continued
The best way to figure this out isn't seeing it written up on Yelp or TripAdvisor (although it's good to check there). Don't make your customers pay for your shortcomings, hire help to get an unbiased opinion. Mystery shopping is one of the most effective ways of doing this.

After more than 500 mystery shops, we've learned some lessons that can really take a winery experience from mediocre to "WOW."

Top 10 Mystery Shopping Lessons
Eliminate your backstage:

Make sure what happens "behind the scenes" stays there—both physical surroundings and staff attitudes/conversations.

Master your greeting:

Give a smile and make eye contact within 15 seconds of guests' arrival.

Understand your flow:

From your service design to virtual merchandising to silent selling.

Recognize buying signals:

Both verbal and non-verbal cues are more obvious than you think.

Nail the triple score:

Ask for the order, sell your wine club and capture contact data—all three, every time.

Create dialogue versus monologue: Ask open-ended questions—talk with your guests, not at them.

Build rapport: Create engagement with your guests for a memorable, positive experience.
Listen and tailor your pitch: Listen to your guests and change your offer to best meet their needs.
Sell your unique brand story: What are your guests going to remember about your brand?
Implement your lessons: Once you've gotten feedback from mystery shopping, make the changes you can and measure your success over time.
Embrace these lessons whether or not you chose to employ mystery shoppers for your tasting room. Even the smallest changes can guarantee results to your bottom line.
Source: WISE Academy,
www.wineindustrysaleseducation.com
"Tasting Room in the Flesh" continued
Greg Wilcox is the managing partner, and his perfectionist philosophy—honed during his executive career at large international companies—is reflected in all aspects of the winery. The wines are definitely world-class, and the club members and visitors are treated as such.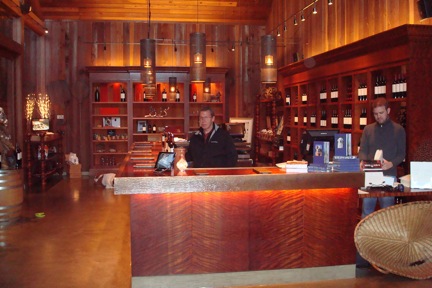 Managing partner Greg Wilcox (center) checks out the main tasting room at Lambert Bridge.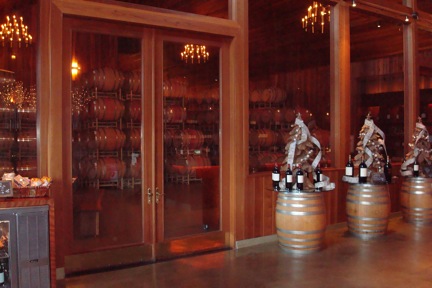 Casual visiitors can peer through the glass to the Lambert Bridge barrel room/VIP-club member tasting area.
Making smart use of space

Iconic Napa winery Rombauer Vineyards was one of my old stomping grounds in the '90s. I decided to pay it a visit one recent Wednesday afternoon and saw a major change that made use of the relatively small tasting room space to accommodate visiting crowds. Instead of a single large tasting bar in the back of the room (with large bay windows behind it), the room now has four smaller tasting bars hosted by individual winery staff members. The center of the room is open to facilitate movement without hampering the tasters leaning against the bar.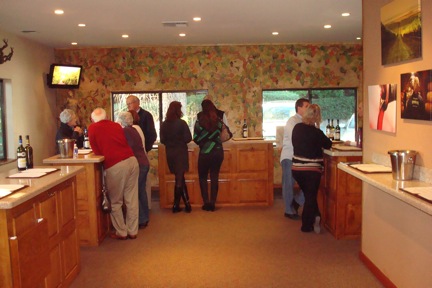 The tasting room at Rombauer Vineyards has four tasting bars for more one-on-one experience.
The oldest premium winery in North America

A beautiful Sunday afternoon was the perfect day to revisit the newly renovated and earthquake-retrofitted Buena Vista Winery near the town of Sonoma, Calif. Jean-Charles Boisset has done a lot of work to bring this historical monument (built in 1857) back to life and into the 21st century. I stopped by to see what we could learn from the old place. Jasmine Herrera supplied me with all the renovation details and each wine's attributes. A group of about 30 jovial visitors arrived and were quickly ushered upstairs by the dedicated tasting room staff—a great move that did not disturb the 10 or so tasters leaning against the main tasting bar or the six people sitting around the fireplace sipping Pinot. If needed, Jasmine told me, Buena Vista uses the VIP tasting room and/or the small group private tasting room to make sure everyone has a relaxed experience.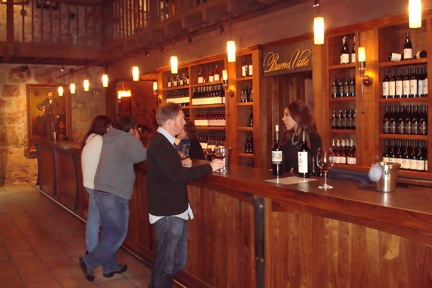 Buena Vista's main tasting room bar can accommodate 20-plus visitors.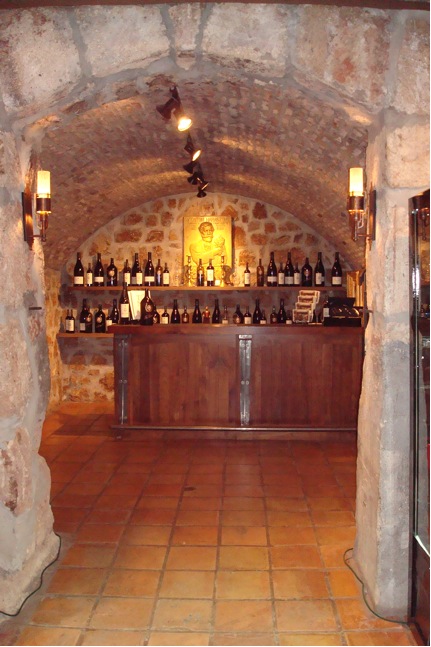 The winery's small VIP tasting room exudes old-fashioned class.
Knowing yourself, your co-workers and your customers

Nigel Hartley of Shirlaws sent me the link to a white paper published by Princeton University about understanding the behavior, beliefs and motivations of several generations including Generation Y (also called Millenials), which includes people born between the late-1970s and the late-1990s. The information is helpful for tasting room managers and employees to communicate effectively with their co-workers and customers in that generation.
Cheers,
JB
Please send suggestions to trf@winesandvines.com
Jacques Brix is vice-president and director of sales, west coast for Wines & Vines. This column is based on his personal experiences at winery tasting rooms.